Dana Ward talked with Ashley Argota at the GBK, Tiger Beat & Bop Gifting Lounge celebrating the 2012 Kids' Choice Awards. The two chatted about college life, and Ashley dished on working with Cody Simpson.
'Bucket & Skinner's Epic Adventures' will be coming at you soon with all new episodes on Nickelodeon. We got to chat with the stars of the show.
Ashley Argota plays the ambitious Kelly Peckinpaugh. Her character is the apple of Bucket's eyes, but she seems not to take much notice there. See how Ashley got to land the roles she's known for today below!
Fanlala: What do you like most about your character Kelly on 'Bucket & Skinner'?
Ashley Argota: She is an over-achiever in real life. She's a part of every single club in school – a cheerleader, part of the welcoming committee. Kelly's everything, and I was a lot like that when I was in school.
F: It must feel great being a part of the Nickelodeon family. Do you have any favorite Nick shows new or old?
AA: I absolutely loved 'The Amanda Show'. That was one of my favorite shows in the world when I was growing up, it was hilarious with the dancing lobsters! I also really liked 'Drake & Josh'!
F: Bucket, Skinner, and Kelly are all great surfers. If you could become instantly good at any sport, which would you pick, and why?
AA: Oh man, I actually think it would have to be surfing. I'm the only part of the cast who doesn't know how to surf. I know on the hiatus Tiffany took the time to learn how to surf, and I feel like I should learn now.
F: We know you started out on a show called 'Star Search'. Can you tell us about your performance on the show that launched your career?
AA: Ah yes. I was ten years old at the time, I had a little red dress on, braces. I was an absolute nervous wreck, but it was a lot of fun. The girl I was competing against in the preliminary rounds was actually one of my best friends. Everyone was like "they're going to be so competitive," but we worked really well together. I also remember Arsenio Hall picking on me a lot. He always said I had something in my teeth, but he just meant my braces. He was really funny. It was basically my introduction into national television, and it was just a great time.
F: Right now you're attending school at New York University. What goals do you have for your future?
AA: Right now I'm on a break, but I'm planning on going back sometime soon. I really do want to finish school. Things happen, even in show business, and I really want to have a Plan B, so I want to finish nursing school. I took a chemistry class my first semester. Hopefully I'll be finishing school very soon!
Stick with Fanlala for details on upcoming episodes of 'Bucket & Skinner's Epic Adventures'. And don't forget to check out our other interviews with the cast members!
BRAND NEW EPISODE OF BUCKET AND SKINNER'S EPIC ADVENTURES! This Saturday, March 17th at 9pm. "Epic Cuffs". Kelly accidentally gets handcuffed to Bucket and Skinner when a magic trick goes wrong, and has to figure out how to go to dinner with her boyfriend with the boys in tow.
Make sure to tune in!
The cast will be live tweeting during the EAST COAST airing and we're gonna try to trend #newbucketandskinner at 7pm WEST COAST TIME (10pm EAST COAST). See you on twitter!

Ashley took the time to blog about the future of Bucket & Skinner's make sure you check it out below.
Dearest Butterflies,

If you haven't already heard the great news, a BRAND NEW episode of Bucket and Skinner's Epic Adventures is finally airing this SATURDAY (March 17) at 9pm! It's an episode called "Epic Cuffs", where Kelly accidentally gets handcuffed to Bucket and Skinner after a magic trick gone wrong, then has to go to dinner with her boyfriend and his parents. It's a really funny one, and I'm so excited for you guys to see it.

Now, a lot of people have been asking me about more episodes / a second season. I've always promised to be open and honest with you guys, and the truth is… we don't know about our second season yet. Everything is still up in the air. But I wanted to let you guys know that the power is in your hands; if you guys want to see another season of the show, then you have to tune in every week. We can tweet and Facebook and post fun videos about the show all we want– but the most important thing is that you guys actually watch the show every week.

New episodes will be shown both this week and next week, and I cannot stress enough how IMPORTANT it is that you guys tune in if you want to see a ton more Bucket and Skinner in the future. Like I said earlier, the power is in your hands.

So, watch the show. Tell your friends. Spread the word.

You want more Bucket and Skinner? So do we. Let's make it happen. We can't do this without you.

Thank you. I love you guys.

xoxo
Ash
After a short break of not airing episodes. Nickelodeon is finally airing a new episode of Bucket & Skinner this Saturday. I am extremely excited. Its been way too long.
Episode Synopsis: The boys unintentionally handcuff themselves to Kelly when a magic trick doesn't go as planned, so they're forced to accompany her to a boring dinner party.
A lot of you guys heard that we did the cinnamon challenge on set and wanted to see the video.

Here's one of the times we did it!

More videos coming soon.

NEW EPISODES AIRING THIS MONTH!!!!!!!!!!

Thanks guys.
Welcome to our new YouTube channel!

We created this channel so we could keep you guys posted with everything that's happening with Bucket and Skinner's Epic Adventures. Check back here every week for new videos and info about our upcoming episodes!!

We love you guys– you guys are the best fans in the world! Thanks so much for your support!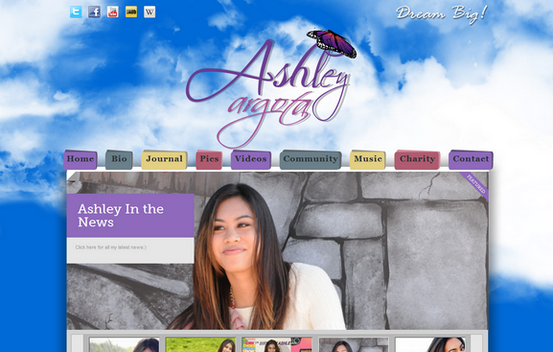 In the time we took to get the site back up Ashley relaunched her official website! It looks amazing I love it. Make sure you check it out and bookmark it.
2011. Another incredible year.

Thank you thank you thank you THANK YOU. For everything.

Here's to an epic 2012.

xoxo
ash
————————————————————————————————–
On another note I want to welcome you all back to the and improved Ashley Argota Fan. I know Its been so long since this site has been up and running but we are finally here to stay. I also want to apoligize to the amazing Ashley for not only not getting the site up on time as planned and I wasnt able to wish her a Happy 19th Birthday due to my internet being out. So Happy belated birthday Ash. We love you. Lastly I want to thank Sofia and Jordan for all their hard work and help getting the sites new design up, you guys are incredible!
« Older Entries